DIOU FLO (Florence Pinvidic and Florence Glorion)
Explanation of the system of tabs
for chromatic acordion

You don't know what is a "tab" ?
Well, it's just another way of writing music : the melodies are transcribed by numbers and letters, which correspond to keys on the accordion.
In short, you don't need to know musical theory to read a tab !

There were tabs for guitar, harmonica, piano, diatonic accordion... From now on, there are tabs for chromatic accordion !

The notation of the left hand is that conceived for the diatonic accordion by the CADB (Diatonic Accordion Brittany) according to the Anglo-Saxon writing of the chords used in particular by the guitarists :
| | |
| --- | --- |
| A | LA |
| B | SI |
| C | DO |
| D | RÉ |
| E | MI |
| F | FA |
| G | SOL |
| | |
| --- | --- |
| A | Bass note of A (LA) |
| a | Chord of A (la) major |
| am | Chord of A (la) minor |
| a7 | Chord of A (la) major seventh |

As for the notation of the right hand, it's not far removed from the notation conceived for the diatonic accordion by Jean-Michel Corgeron ("rows system"). My teaching experience shows me that :
- it's easy to read Chroma Tabs.
- when you read the tabs, you immediatly can see the "geography" of the melody on the right hand keyboard.
The melodies are transcribed with numbers : the keys are numbered beginning by the top of the keyboard ; the row is specified because the chromatic accordions have 3,4 or 5 rows.
Click here to read the diagram
(BAS = BOTTOM / HAUT = TOP)
Concrete example :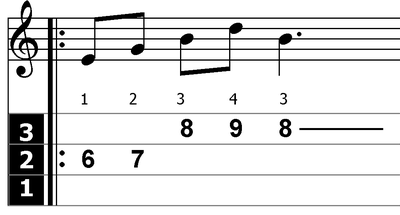 the 1st note is the 6th of the 2nd row
the 2nd note is the 7th of the 2nd row
the 3rd note is the 8th of the 3rd row
the 4th note is the 9th of the 3rd row
the 5th note is the 8th of the 3rd row
Useful precision : the tabs are planned for "standard" accordions (C -do- on the 4th key of the 1st row, right hand keyboard). If your accordion has not the "standard size", it will be necessary for you to adapt the tabs (a little trick here).

I usually write the tabs on 3 rows, because it's more universal (all the chromatic bottom accordions have 3 rows). When it's easier to use the 4th row, of course do it !

Remark : this system of tabs is planned for an international chromatic bottom accordion C-GRIFF, no for specific keyboards like the Belgian one.
When we indicate the fingers used, we number them starting from the index : 1 = index; 2 = major; 3 = annular; 4 = auricular. The inch is noted : "P".
Advice : after the deciphering of the tune, don't remain prisoners of your tabs, please don't forget that you play music and not numbers !